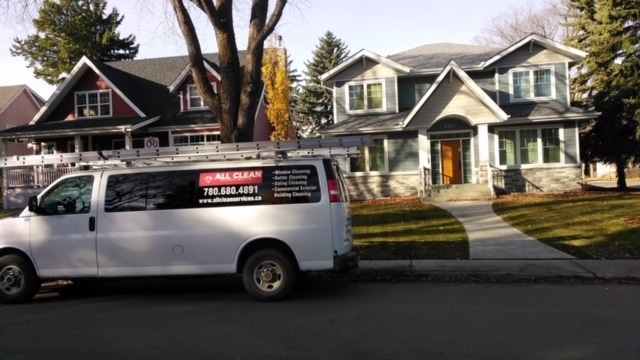 Do I need to be home during the cleaning?

No, You do not have to be home when we are cleaning the exterior windows only. At the time of leaving your house, just remove the screens if they are on the outside. Put them outside for us to clean them too and ensure that you close all the windows

How do you clean the windows?

Depending on the type of glass on your windows, we use, the pure water-fed pole system or the traditional squeegee

What if it rains on my scheduled outside window cleaning day?

If it is not raining it is our policy to complete the job as scheduled. If it is raining but the precipitation is light we will proceed as scheduled because rain does not affect the cleaning (see next question). In the circumstance of heavy rain/ showers or high winds, we will re-schedule your appointment (usually within 2 or 3 clear days). All inside work may be completed as scheduled to avoid disrupting your busy calendar. If you have an appointment with inside cleaning services we will confirm by telephone the morning of service.

Does the rain make my windows dirty?

Rain does not make the windows dirty, dirt does. Dust accumulates on the outside of the glass from lawn mowers, leaf blowers, tree pollen, car exhaust and many other sources. This dust settles as a uniform layer on the glass. When it rains, the rain drops push the dust into different patterns and after the water dries the dust remains on the glass. This new "mud residue" is now highly visible because it is no longer uniformly spread but is sporadic throughout the pane. Clean glass will stay clean after a rain because once the rain water dries, there is nothing left behind to obscure the view.

How long does it usually take?

Typically it takes our crew approximately 1–2 hours depending on the types of windows ,the number of windows, and the screens. We strive to be as efficient and effective in our cleaning.

Do you leave any mess after you clean?

We clean whatever debris that comes from the cleaning and take utmost care of the lawn and flowers when working on the exterior windows. We take great care and attention to protect your furniture and belongings when working on the interior windows

Are your workers trustworthy?

Integrity is one of our core values and it means a lot to us. We strive to hire only responsible individuals and we are fully insured and bonded for anything that may happen at your location. Our staff are experienced and undergo regular refresher trainings.

How often should I clean my windows?

It can range from once a month to once a year depending on a number of factors. Outside windows are soiled mainly by ,road cleaning activities, constructions in the neighbourhood, wind blowing pollen and dust around and also to trees and bushes near the house. Interior windows on the other hand could be cleaned in longer intervals because they do not get as dirty quickly as the exterior windows

Do you give a guarantee on the job?

We are licensed and insured and utmost care is always taken when setting up and taking down our equipment. Your property is always left as we found it. Your windows are guaranteed to look great in any kind of weather. Whether it's 30 degrees and sunny or it rains after your window cleaning service is completed, you can rest assured that your windows will look great! If for any reason you are not pleased with your cleaning service, let us know and we'll make it right, even if it rains (see our Rain Guarantee)* Please contact us within 48 hours of your window cleaning service if you are not satisfied with the appearance of your windows so that we can promptly address your concern.

What major credit cards do you take?

We accept Visa, Mastercard, American Express and Discover. We charge a 3% fee for processing a credit card payment.