Want to get a better idea of how much it will cost to have your gutters cleaned out in the Edmonton area and its surrounding towns?
This simple guide will help you in your search for a reliable, experienced and cost efficient gutter cleaner out there.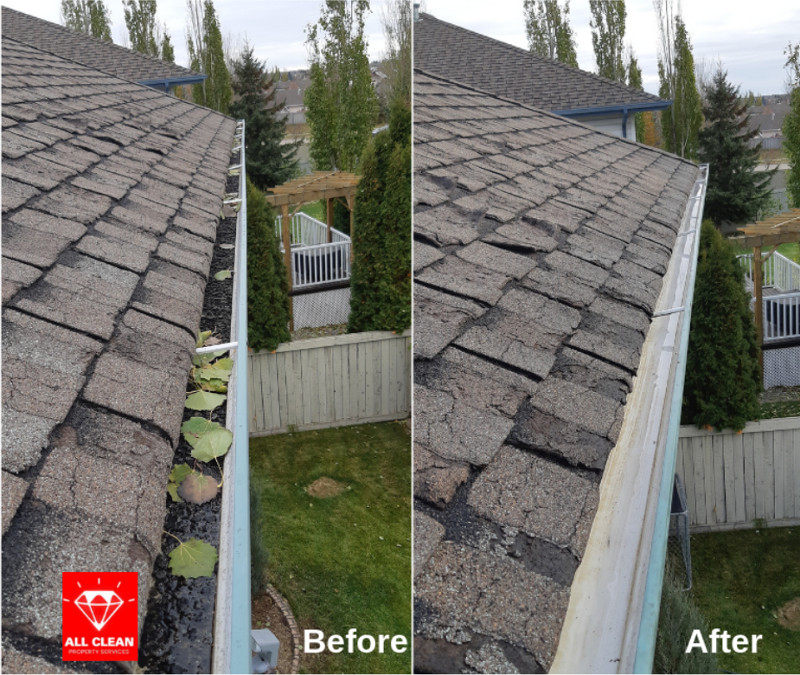 Read on to learn some gutter cleaning price estimation tips from the All Clean Property Services team!
**Remember ,cost is very relevant to the scope (clean & repair), property size and complexity (landscape and height) of the job, so use this blog post only as a guideline to understand where your property might fall within.
What to expect from the gutter cleaning service.
Gutter cleaning involves hand-picking or vacuuming the debris, bagging and disposing of the waste. After the debris has been removed from the gutters and downspouts, they are both flushed down with water to make sure that water flows smoothly.
If there are leaks or other problems, some gutter cleaners also offer minor and major repairs if need be.
When requesting for a quote from All Clean Property Services ask if we will seal leaks ,tighten fasteners, reseal end caps and outlets. Also, ask about repair of problem areas.
Gutter cleaning estimate costs:
A small bungalow ,approximately 1,500 sq.-ft. with 150 feet of gutters is typically priced at between $75 and $200.
Single-storey homes, approximately 2,000 sq.-ft. with 160-180 feet of gutters will range between $250 and $297.
Two-storey 2,500 sq.-ft. homes with 200 feet of gutters will cost between $297 to $497.
Factors that may influence higher prices:
The cost of cleaning your gutters may however go up depending on some of these variables:
Gutter Guards – if your gutters have gutter guards, the technician may have to remove them ,clean the gutters and re-install the guards back again. This will take more time to complete the job.
Overly clogged gutters and downspouts can add considerable cost to your gutter cleaning.
If your home is three-storey or more, specialized equipment and additional personnel may be needed to access and clean your gutters safely. You will add an extra $75 to $200.
Landscaping – Uneven ground at times make it very challenging for the technician to safely position the ladder and access the gutters.
Nature and size of the repair on the gutter or downspout if needed.
***Remember to discuss all additional costs when getting the complimentary estimate!
Why search for an experienced professional?
Gutter cleaning can be challenging and with potential risks. It is vital to let a professional do this chore. All Clean Property Services is Bonded, Licensed and Insured. Our work is Guaranteed (If we have overlooked something just call us within 48hrs of your completed job and we will come and rectify for Free).
We carry full worker's compensation as well as liability insurance.
We have an on board camera for precision cleaning. After the job is done we take after photos of your cleaned gutters for your approval.
We leave no Mess!, on your property.