Can I get a quote for cleaning my windows? This is a question I get daily from prospective customers.
My answer is always, yes, quote you can, and I follow it up with the question; "Would you like a quick online quote or can we schedule to visit your home or office to give you a detailed quote?"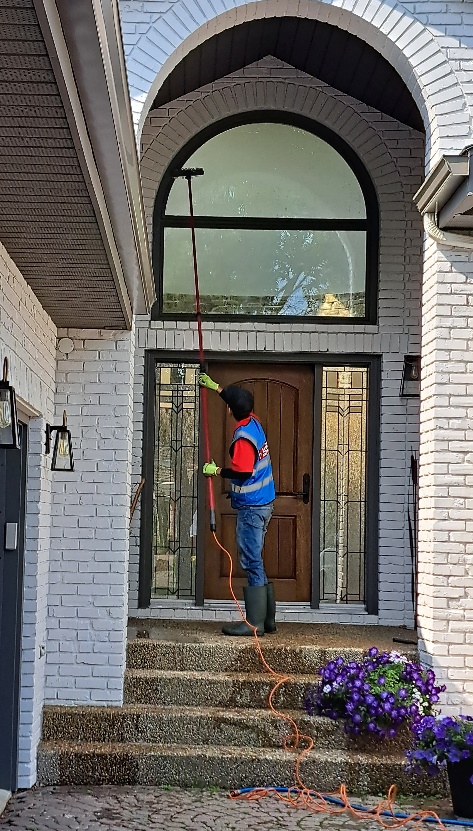 Window Cleaning in Hawks Ridge Boulevard NW Edmonton
The answer I get depends on the intention of the caller.
In this article I will compare the benefits of getting a quick online or phone quote verses getting a detailed in person quote.
Let's look at the:
Benefits of getting a quick online quote.
Saves Time
If you are looking for a quick overview of how much window cleaning your home will cost you, then a phone quote will do. It gives you a rough idea of how much it would cost you to get the job done. This will also enable you to schedule the job if the price is right for you.

Make Quick Decisions
Asking for an online quote enables you to call several window cleaners and decide who to book the job with.

Find the Right Contractor by Price Comparison
If you are looking at price as a key factor, then quick phone quotes will help you find the right contractor in your price range.
Downside of getting a quick online quote
Hidden Cost: You run the risk of incurring hidden cost that may turn up to be expensive. The phone or online quote may not be the final price. Most of the phone quotes have a caveat that the price may go up if the contractor finds additional windows that you did not mention upfront.

More Time: Since the contractor did not see the job, the contractor may not have the proper judgement of time needed to get the job done. It could take longer than planned for and the price may go up.
Now Let's look at the:
Benefits of getting a In Person Site Visit Quote.
Personal & Specific Quote
When the window washer visits the site, they are able to give you a specific quote based on the number of windows, the type and size. This reduces the chance of being overpriced.

Assess company culture.
By getting an on-site quote, you are able to see the potential window washer or even assess the company. You can ask more questions and get answers right away.

Understand what the project involves.
In person visits enable the window cleaner to understand the scope of the project. They will therefore come prepared with the tools and crew sufficient to get the job done right.
Downside of getting an In Person Site Visit Quote
Wait Time: The challenge with in-person site visit is that you will have to wait to get the quote.
The thought of getting a quote could be daunting. It means, calling several window cleaners and your phone may not be answered, or your email not being answered.
Your windows however need cleaning, therefore I challenge you to make a move, call for a quick online quote or schedule a home visit. You will feel a sense of accomplishment and a step closer to making your windows clean.
At  All Clean Property Services we give you a quote within 24 hours or you get a free lunch coupon*.
Because of the above, we stay busy and will soon be booked up, so CALL NOW. 825-343-3394
*$15 Lunch Coupon
Related Articles
How much does it cost to clean all windows in a house in Edmonton, Alberta?
Residential Window Cleaning in Edmonton