The costs involved are what pushes the prices up.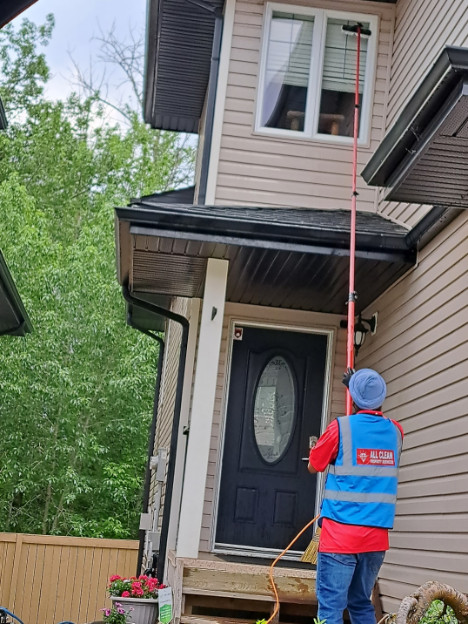 Window Cleaning in Cameron Heights Edmonton
With the smoke from the wildfires, pollen from the flowering trees, rainstorms blowing leaves and debris on your windows and constructions throwing all the dust in the air, windows tend to get dirty very quickly.
They then require cleaning more often than usual.
When you call for window cleaning services, the quotes are normally at minimum, over $200.
I have had customers ask me why it is so expensive to clean windows?
There are various reasons and here they are:
The cleaning equipment's are expensive
Most professional cleaners use pure water to clean windows and the systems cost thousands of dollars.

Workers insurance coverage and bond
It is mandatory in Alberta to carry Workers Compensation Benefits (WCB). This is good for you as a home owner because it protects you from any liability should the window cleaner get injured at your home.

Business insurance
There are several risks involved in the window cleaning job like glass breaking, glass getting scratched, damage on the wall from the ladders, and breaking a house furniture or ornament, falling down or tripping the homeowner during the work. Accidents and misfortunes cannot be predicted; therefore, it is in the hands of the window cleaner to make sure that they are prepared by investing in the right general insurance cover.

Window cleaning skills take time to master
Mastering perfect window cleaning takes practice and time. Technicians also need training and certification such as Fall Protection and IRATA (Industrial Rope Access Trade Association).

Cost of serving you
Window cleaners must drive to your home or business location. There are several logistics to enable them to get to each location. These add up the cost of serving you.

Despite the above reasons, having clean windows make you feel better. Gazing out through them, viewing the different seasons in their full colours is picturesque.

I had a customer once remark that, cleaning windows is money well spent.
We at All Clean Property Services are happy to help you keep your windows clean and nice to look through the different seasons.
Because of the above, we stay busy and will soon be booked up, so CALL NOW. 825-343-3394
Related Articles
How much does it cost to clean all windows in a house in Edmonton, Alberta?
Residential Window Cleaning in Edmonton