Step by step guide to clean gutters
Many times, when customers call us at All Clean Property Services for gutter cleaning services, one of the first questions that pops up from them is, how do you guys clean the gutters?
I guess one of the main reasons for this question is because they have previously chosen the wrong provider who let them down.
In this article, I will take you through the step-by-step standard procedure that we follow, and you can clean your gutters for yourself if you have the time and the right equipment.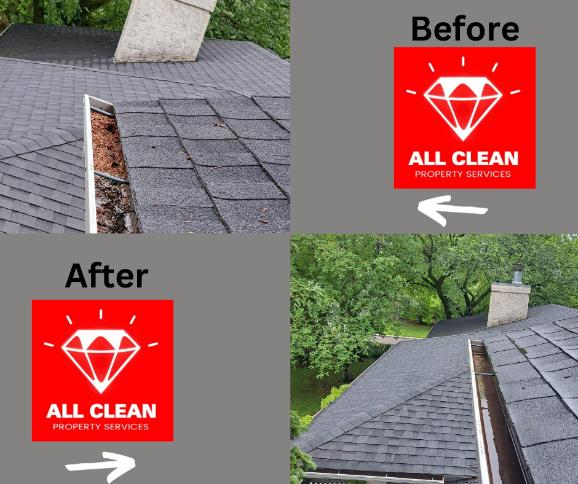 Gutter Cleaning Butchart Drive NW Edmonton
Step 1: Blow any leaves or needles from the roof.
Using a blower or a broom, clear the roof of any debris. At All Clean Property Services all our technicians are trained to start by blowing the roof of any pine needles, leaves or twigs. The reason for this is to ensure that none of the debris from the roof makes its way back to the gutters after you have cleaned them.
Step 2: Remove the debris.
After cleaning the roof, handpick or vacuum the debris from the gutters and put them in a bag or bucket. This makes it easy for you to throw away the debris once you are back on the ground. By removing the debris from the gutters, it will make the rinsing of the gutters much smoother.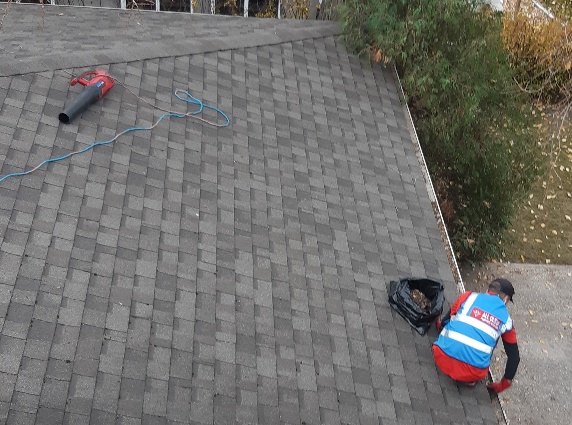 Gutter Cleaning Saskatchewan Drive NW, Edmonton
Step 3: Rinse or Flush the gutters and downspouts.
Having removed all the debris from the gutters, attach a hose to the tap and start rinsing the remaining gunk from the gutters. Ensure that the downspouts are flowing all the way down to the ground.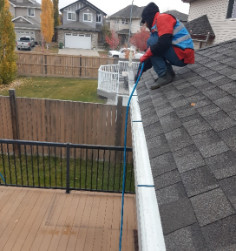 Gutter Cleaning Nadine Way, St Albert
Step 4: Clean the exterior of the gutters.
Once you have rinsed the gutters and the water is flowing smoothly, get down and start cleaning the exterior of the gutters. You can use a jet nozzle to do this.
Step 5: Clean the sidewalk, driveway and around the house.
Now that you are done cleaning your gutters, clean the sidewalk or driveway of any debris that might have fallen on the ground. Clean also the tip of the downspout extension for the debris that came down as you were flushing the gutters. Walk around the house to ensure everything is clean.
This is how we at All Clean Property Services clean gutters and now you have the step-by-step procedure of how to clean your gutters by yourself. However, if you fear heights and are time constrained choose All Clean Property Services.
Clean your home or property only with All Clean Property Services because we clean the right way.
Because of the above, we stay busy and will soon be booked up, so CALL NOW. 825-343-3394
Related Articles
How much does it cost to clean all windows in a house in Edmonton, Alberta?
Residential Window Cleaning in Edmonton